How Chipper Cash uses DriveWealth to power U.S. investing across Africa
The Problem:
Becoming a full financial platform
Chipper Cash offered its four million users a borderless way to send and receive money across seven African countries and the United Kingdom.
The company was seeing 80,000 transactions a day, and receiving positive reviews from its customers, but they wanted to create even more opportunities for their customers.
The investment opportunities in local stock markets were limited. Volatile local currencies made dollar-based assets attractive to their customers. The Chipper Cash team believed that their customers would jump at the chance to own small amounts of companies they know and use, like Facebook and Amazon*.
The Solution:
Embedding fractional investing in U.S. equities
Maijid Moujaled and Ham Serunjogi, Chipper's founders, saw fractional U.S. investing as a great opportunity for their business and their customers. It aligned with their mission to unlock global opportunities and connect Africa.
Using DriveWealth's APIs and brokerage infrastructure, Chipper was able to integrate an investing experience seamlessly into their existing application.
The DriveWealth team was also able to consult with Chipper on their approach to regulation in different countries in Africa.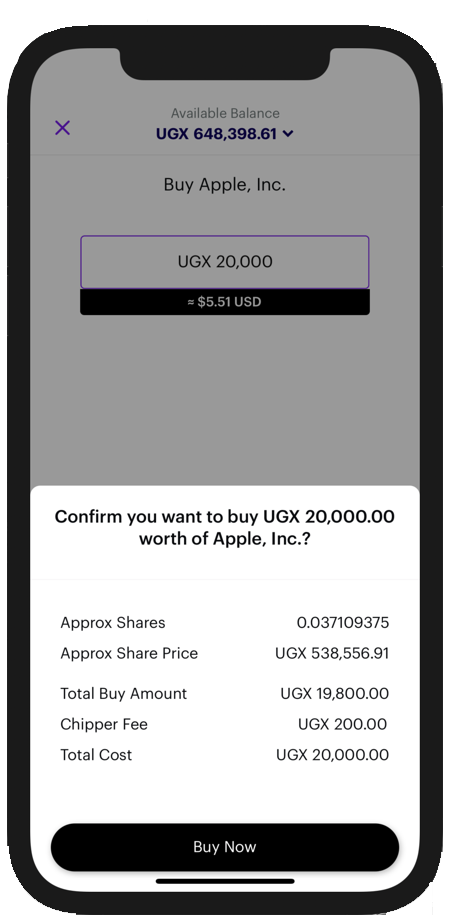 Results:
A multi-national launch
Chipper Cash is an African company. With DriveWealth as a partner, they were able to successfully launch fractional U.S. investing in Nigeria, Uganda, and Ghana; and are planning to expand further.
TechCrunch — African fintech startup Chipper Cash raises $30M backed by Jeff Bezos
Testimonials may not be representative of the experience of other partners, and are no guarantee of future performance or success.
* The companies discussed are for illustrative purposes only, and do not constitute a recommendation to buy or sell a particular security.
Click here to view fractional share definitions and disclosures




The DriveWealth Difference
DriveWealth's consultative approach enabled Chipper Cash to launch in multiple markets with different regulatory environments, and withstand regulatory scrutiny.
Want to empower your customers with modern, innovative products and solutions? Connect with us today.